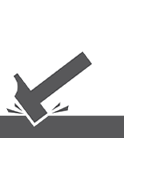 Hardness, Coating & Surface Testing
Hardness Testing, (HT) is a measure of how resistant solid matter is to various kinds of permanent shape change when a compressive force is applied.
A roughness tester, also referred to as roughness gauge or roughness meter, is a portable device that is used to quickly and easily measure the surface roughness (surface finish) of an object
A coating thickness gauge, is used to measure dry  film thickness. Provides quality control for many products and materials.
Showing 1–8 of 18 results