You are here:
Home
›
Gamma Inspection and XRay Equipment
Gamma Inspection and XRay Equipment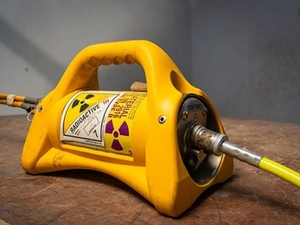 Industrial radiography is the use of ionizing radiation to view objects in a way that cannot be seen otherwise. It is not to be confused with the use of ionizing radiation which changes or modifies objects. Radiography's purpose is, in this regard, strictly viewing objects that otherwise can't be seen.
Industrial radiography has grown out of the engineering sector, and is a major element of the Non-Destructive Testing field. It is a method of inspecting materials for hidden flaws that would otherwise be invisible. This works by using the ability of short X-Rays and Gamma Rays to slip between atoms and penetrate various materials. The technique is similar to that used by radiography cameras in medical equipment.
Two ways to inspect materials for flaws is to utilize X-Ray computed tomography or Industrial computed tomography scanning. Rays sourced from a ray machine project a small amount of radiation waves into a sealed object. This provides a data readout of its internal mechanisms.
NB: Gamma radiography uses a small volume of radioactive material to produce ray images. However, the radioactive source only produces minor radiation exposure and is not harmful for humans to use. Radiation safety measures are included in each and every one of our products listed below.
Contact NDT today to ask about any of our products or to place an order for non-destructive testing equipment. We're available Monday to Friday, 7:30-4:00PM to talk to you about any of the products listed on our website. See our range below of industrial radiography equipment (NDT X Ray Equipment):
Showing 1–9 of 32 results