Description
It is also a very versatile piece of equipment as it can be used to perform integrity assessments of metal steel works affected by corrosion or erosion processes as well as to measure precisely the thickness of a critical piece of equipment.
Simply brilliant user interface design.
Ergonomic enclosure and accessories.
Fast Min/Max mode at 25 Hz.
Large hi-resolution LED backlight.
Colour screen or vibration alarms.
Multiple sizes reading display.
Custom design for IP67 rating.
Up to 27 hours continuous operation.
Re-chargeable via USB port.
Precision Gauge:
Precision gauges are particularly effective when using single element transducers and delay line wedges in Pulse-Echo configuration to achieve higher accuracy than corrosion gauges and meet very strict quality control requirements.
Standard features include: a wide thickness gauge (up to 20″ in steel), a 1 micron resolution (0.0001″ or 0.001 mm), store and recall up to 2,700 setups, a high end 30 MHz bandwidth instrument and a "Zoom Auto Tracking" functionality.
Typical Applications:
Castings and turbine blades.
Plastic parts.
Coil steel and auto body panels.
Fibreglass and gel coatings.
Velocity measurement.
Aluminium, glass, ceramics and zinc.
Corrosion Gauge:
Corrosion gauges generally use dual element transducers in a Pitch and Catch configuration to reduce surface problems and measure accurately the remaining wall thickness of metal structures subject to corrosion.
Standard features include: a wide thickness range (up to 23″ in steel), coating thickness and substrate thickness displayed simultaneously on the gauge with live waveform, temperature correction and file compare features for data logger versions.
Typical Applications:
Pipes and boiler tubes.
Pressure vessels.
High temperature applications.
Storage tanks.
Ship hulls.
Steel beams.
Versions:
AlphaGage+ C:   High performance hand-held CORROSION thickness gauge.
AlphaGage+ P:    High performance hand-held PRECISION thickness gauge.
AlphaGage+ CP: High performance hand-held CORROSION and PRECISION combined thickness gauge.
Add Options:      Data logging (DL), Waveform (W) and Oxide Scale (OS) software options available on all models.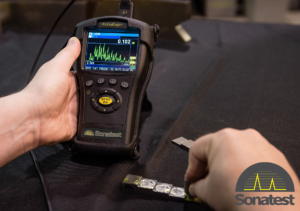 For further information, please Contact us or email: ndt@ndt.com.au