SIUI CTS-9005 Digital Ultrasonic Flaw Detector

Description
Portable, Easy-to-Use, Reliable – New Generation General Purpose Digital Flaw Detector.
Compact  & Portable:  The whole unit weight (battery included) is approximately 1.2 kgs, suitable for aloft and field work.
Easy Operation:  There are just a few concisely- defined keys, easy to be operated with only one hand.
Environmental Protection:  This system is designed based on IP65 standard, suitable for complex industrial flaw detection environment.
Super-low Consumption:  The configured Li-polymer battery can support up to 7-hours continuous operation.
Strong Performance:  High resolution and penetration, achieving precise flaw detection from thin plates to large forged pieces.
Superior Features:
Maximum sampling rate 240 MHz; Measurement resolution 0.1 mm.

Operating frequency range:  0.5~10 MHz.

20-2000 Hz (step: 20 Hz): avoid reverberation signals during flaw detection.

The AGC (auto gain control) function for efficient flaw detection.

The AVG/DGS curve works with echo compare function, making echo quantification of different distances and amplitudes more convenient.

The 5.7″color TFT LCD of wide viewing angle, high brightness and high definition delivers every clear detail.

Peak memory function facilitates quick scanning and measurement on work pieces.

Three different color schemes can meet the requirements of different application environments and habits.

Up to 300 sets of curve and waveform can be saved for various work pieces and flaw detection standards.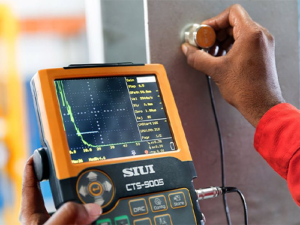 For further information please Contact us or email: ndt@ndt.com.au