Testia Smart UE1 UT & EC Instrument

Description
Developed by AIRBUS Group Innovations, supported by TESTIA.
Designed for different levels of expertise, the basic mode will assist diagnosis if you are not an expert. Expert mode will meet all your specialised requirements. It is compatible for all stages of aircraft life, from development manufacturing up to in-service.
3 standard modules available: Standard Ultrasonic testing (UT) module • Standard Eddy Current testing (ET) module with rotor option • Standard Resonance testing
5 optional modules: Thickness Gauge (UT) • Cladding detection (ET) • Galvanometer (ET) • Electrical conductivity (ET) • Coating thickness (ET)
Ultrasonic and Eddy current instrument: Compatible with any transducers, Eddy current sensor & resonant probes.
Compact and light.

Dedicated software modules for non-experts in UT.

Improved traceability and automatic report generation.

Designed for in-service applications with user friendly interfaces.

Desktop PC compatible application software for manufacturing.

Optional remote assistance & easy access to NDT procedures.
The UE1 is Referenced in more than 50 AIRBUS aircraft procedures.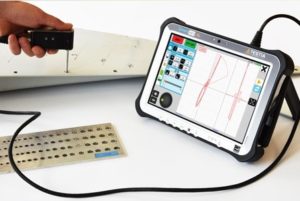 For further information please Contact us or email: ndt@ndt.com.au