SIUI CTS-30C Ultrasonic Thru-Coating Thickness Gauge

Description
The SIUI CTS-30C is one of the smallest ultrasonic "thru-coating" thickness gauges on the market. Its small size, light weight, low power consumption and wrist strap securing option make it ideal for working at heights or for single person operations. The easy, menu driven operating interface makes those difficult to measure situations seem simple – even thru-coating thickness measurement on painted  thin wall pipe.  This is an ideal inclusion for every NDT tool box.
Features:
Fast Scan.
Two-Point Calibration Option.
Multi-Probe Selection.
Thru-Coating Measurement.
Specifications:
Pulse-Echo Mode:  0.8 mm to 400 mm in steel, depending on probe, material, temperature and setup.
Echo-Echo (Thru Coating Mode): 3 mm to 50 mm in steel, depending on coating situation, material, temperature and setup.
Resolution: 0.01 mm.
Measurement Function: Standard, minimum, average, difference, scan.
Measurement Times:  2 times per second in normal scanning, approx 20 times per second in fast scan mode.
Data Download: Download to PC via the mini USB port.
Data Storage: Up to 5000 individual measurements.
Probe options: Through coating probe, high temperature probe, 2MHz to 7.5MHz probes.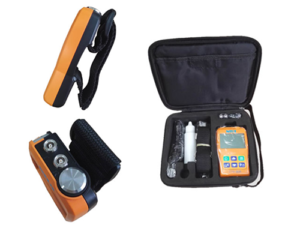 For further information, please Contact us or email: ndt@ndt.com.au