CTRL UL101 ELECTRICAL INSPECTOR
Improve safety practices and locate potential points of failure in critical equipment quickly with the CTRL UL101 Electrical Inspector  Electricity, escaping in high voltage lines or jumping across gaps in electrical connections, disrupts the molecules in the air and produces ultrasound.
Description
The CTRL UL101 Electrical Inspector converts the ultrasound generated into audible sound.  The inclusion of the concentrator set and poly-carbonate extension probe allows for the inspection of dangerous electrical equipment from a safe distance with no need to remove panels.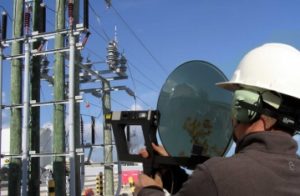 For further information, please email: ndt@ndt.com.au