Wilnos LCD 51 Hand Held Probe Densitometer

Description
The Wilnos LCD51 Densitometer is a portable unit with digital LCD display for industrial film X-Ray measurement. The hand-held probe in slim-line pen format is interchangeably connected to the control unit by means of a highly flexible 1.3 meter long cable. It utilizes semi-automatic push-button zeroing, excess and inadequate brightness levels are indicated by means of a flashing LED on the display, and there is a trimmer for density calibration on the front panel. It has low power consumption and no warm up time.
 Specifications:
Battery: Commercially available 9V alkaline battery, 6LF 22.
Measuring  Aperture: 2 mm diameter.
Measuring Accuracy: ±0.05 in the 0 to 5.0 range.
Measuring Range:  0 to 5.0.
Display Accuracy:  ±0.01.
Single Measurement Period: Up to D = 4, approximately 1 second.  Up to D = 5, approximately 5 seconds.
Dimensions: 8 x 14.5 x 4 cm.
Weight:  210 grams including battery.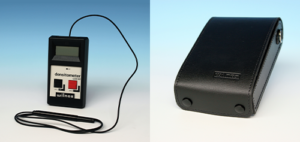 For further information please email: ndt@ndt.com.au