VMI COMPUTED RADIOGRAPHY CR SWITCHBLADE SCANNER

Description
Introducing the first Computed Radiography system designed specifically for weld-quality radiographs, theVMI CR Switchblade . This new system packs VMI's industry leading image resolution into an ultra-lightweight, compact, durable solution.
The CR SwitchBlade scanning process has been designed to have Imaging Phosphor (IP) Plates fed face down, allowing for the solution to be deployed in a direct light environment.  Utilizing an innovative magnetic track process, the SwitchBlade scans IP Plates without bending or manipulating the plates.  Finally making true portable Computed Radiography imaging a reality.
Logarithmic Image Acquisition Process:
Customizable Acquisition Settings.
Compact and Portable Design:
Allows for field transportation.
Magnetic IP Plate Scanning Process:
Magnetic Track Design.
IP Plate fed face down.
Supported feeding and retrieval trays.
Superior IP Plate Protection Flatbed Scanning Configuration:
No bending of the IP Plate while being read and erased.
Guaranteed to NEVER damage IP Plates.
Specifications:
Pixel/Bit Depth:  65536/16 bit source file.
Pixel Pitch:  50µ – 200µ.
Throughput:  60 plates IP hour (4.5 x 10).
IP Sizes:  5″ x 96″ Scanning Area.
Weight:  25 lbs (11.4 kgs).
Dimensions:  W13.2″ x D13″ x H8.4″.
Power Source:  100-240V AC/2.5A max/47-63 Hz.
Light Source/Sensor Laser:  Diode/PMT.
Interface:  USB 2.0
Scanning Process:  Single Flat Path, Magnetic Track.
Feed Mechanism:  Removable Feeding Tray.
Erase Method:  Automatic LED.
Network:  DICOM/DICONDE Compliant.
Operating System:  Windows 7, 64-Bit.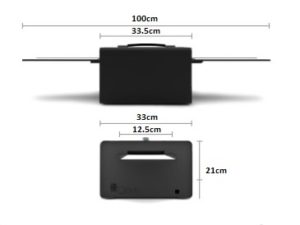 For further information, please email:  ndt@ndt.com.au