Tritex NDT Multigauge 6000 Drone Thickness Gauge

Description
The measurements are transmitted wirelessly in real time to a PC or laptop up to 500 metres away.  The lightweight gauge is supplied with a plastic probe to further reduce weight.  All probes have Intelligent Probe Recognition (IPR), which automatically adjusts settings in the gauge at the same time as transmitting recognition data – the result is a perfectly matched probe and gauge for enhanced performance.  Additionally, the Automatic Measurement Verification System (AMVS) ensures only true measurements are displayed, even on the most heavily corroded metals.  The gauge can store measurements in either a grid or string format which can then later be used in other proprietary programs.
Features:
Ignores coatings up to 6 mm thick using Multiple Echo.  Coating Plus+ ignores coatings up to 20 mm.
Automatic Measurement Verification System (AVMS).
Wirelessly transmits measurements up to 500 M.
Works with Tritex Gel Dispenser.
Lightweight.
No zeroing required.
10 Vdc – 32 Vdc input supply.
Single crystal soft faced probe.
Easy calibration.
Intelligent Probe Recognition (IPR).
3 year warranty.
Free calibration for the life of the gauge (freight charges applicable).
Typical Applications:
Shipping, Bridges, Storage Tanks, Phone Masts, Silos, Lighting Columns, Offshore platforms, Wind Turbines.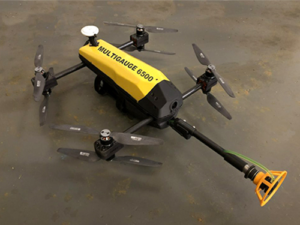 The Tritex Multigauge 6500 Drone (Including Multigauge 6000)
This streamline design combines the Tritex 6000 Thickness Gauge and a Drone into one unique solution for aerial thickness testing. The Multigauge 6500 is a 'Flying Thickness Gauge' that incorporates DJI controllers for the best performance and to allow easy upgrades.
For further information, please email: ndt@ndt.com.au