Description
The PipeLiner is a rugged, easy to use attachment for the Sentinel 880 Delta, Sigma, Elite and Omega gamma ray radiography projectors. The PipeLiner system is operated by one person and can be used on 2″ and larger diameter pipelines. Integral wheels mean smooth effortless transport along the pipeline to reduce operator fatigue.
Attaching The PipeLiner accessory converts the Sentinel 880 series projectors into dual purpose exposure devices for pipeline radiography. The PipeLiner accessory locks the Sentinel 880 exposure device into place at the optimum orientation for exposure, utilizing a durable high strength clamp assembly. The PipeLiner attachment allows the Sentinel 880 series to be used as a conventional radiography device by removing three bolts from the pipe shoe. The PipeLiner is clamped with a polymer coated webbing rated to 1000 pounds breaking force, with an operating range of + 75° to – 60 C°.
Weight: 31 kgs.
Jacket and Projector: 24.2 kgs
Collimator and Shoe Assembly: 6.8 kgs.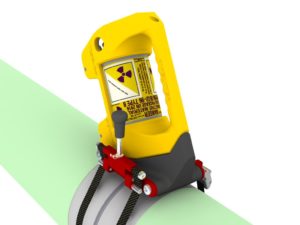 For further information please email: ndt@ndt.com.au