Description
The PG-1 is a unique Pit Gauge based on a Direct Reading Digital Vernier Caliper. The PG-1 is easy to use and provides fast and accurate measurements of surface pits, gauges, dents, undercuts etc.
The PG-1 is made in hardened stainless steel and its 0.2″ (0.5 mm) diameter probe will access even the smallest pits.  The PG-1 is supplied complete with hard case for storage and protection.
Features: 
MM/INCH: (Switch between mm and inch measurements).

ON/OFF: (Turn the power on or off).

ZERO: (Set "0" at any position).
 Specifications: 
Range: 1.25 inch – 30 mm.

Resolution: 0.0004 inch – 0.01 mm.

Permissible Error: +/-0.001 – +/-0.03.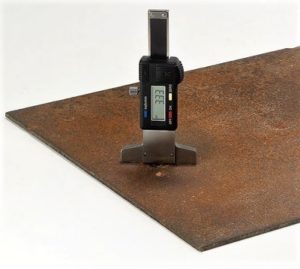 For further information please email: ndt@ndt.com.au