Instrotek MCM-2 Moisture Meter For Corrosion Under Insulation (CUI)

Description
The MCM-2 Hydrotector® non-destructive, moisture measurement gauge is designed for quick determination of water content in the thermal insulation of pipes and vessels at chemical and petrochemical plants.
Features:
Wireless communications between Handheld and Sensor ensures that no problematic wires get in the way of readings.

User-friendly alphanumeric keypad and 20 character backlit LCD.

Rapid, precise repeatable moisture measurements.

Lightweight and portable.

Storage and recall selection of linear calibrations for 32 tubing/ insulation types.

Operator selected time of test

Data downloaded to a USB mass storage device (Thumb Drive) or via a PC application available from InstroTek's website.

Rechargeable NiMh batteries.

Templates for easy project creation for different work sites.

Windows software to organize project data.
Advantages: 
Lightweight, Wireless telescopic pole allows for testing from a distance up to 10 ft.

Fast and easy to use; allows thousands of feet of insulated pipe to be tested in a day.

Designed for maximum accessibility in hard-to-reach areas.

All tests can be stored and identified for each pipe or vessel location. Using Bluetooth®, the data can be quickly uploaded to a computer or printer.

Includes PC software for creating section and location templates for downloading project and logging info.
Applications:
Evaluate insulated tanks and vessels quickly for potential corrosion problems.

Investigate insulated pipe for high concentration of moisture to identify areas for corrosion inspection.

Quickly detects levels in containment vessels.
Simplicity of Operation:
This state-of-the-art instrument offers two easy-to-use operating modes.  The manual mode allows individual tests to be taken at the push of a button, then recorded in memory.  The Quick Test mode takes continuous readings, one every second.
Licensing and Training:
Instrotek offers the necessary radiation safety and application training to ensure proper use of this device on a continuous basis.
Rugged and Reliable:
The MCM-2 detector assembly is enclosed in a strong light weight aluminium housing.  The LCD readout is sealed in a dust-proof and water resistant enclosure.  The padded shoulder bag offers additional protection and convenience.
Data Logging:
Data logging capabilities allow storage of thousands of readings.  The operator can format the memory to identify location, date and time or direction of measurements using a 5-digit ID number. Projects and templates can be transferred to a computer via USB flash drive or Bluetooth.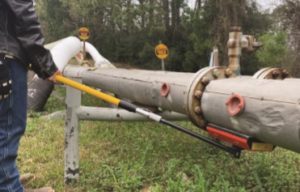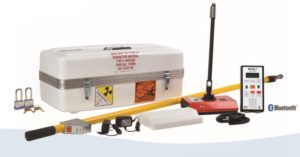 For further information, please email: ndt@ndt.com.au