Description
The Ferroscope 308, manufactured by Russell NDE Systems, is a remote field testing system for tube, pipe and plate.
Applications:
Non-destructive inspection of carbon steel, copper, brass, cupro-nickel, ferritic and other alloys.
For tube inside diameter 0.250 inch (6.35 mm) and up.
Common usage includes boiler tubes, heat exchanger tubes, and storage tank roofs, floors, walls.
Used in power generation, oil and gas, pulp and paper, and petro-chemical plants.
Supports T4 + Saturn techniques for finned tubes.
Small and large bore applications
Complies with ASTM standard practice E2096.05 for RFT (Remote Field Testing) of ferrous exchanger tubes.
Designed to meet many special applications such as flat plate and pipe inspection from the inside or outside.
Features:
Superb pit detection capabilities.
Dual frequency processing for high sensitivity near tube supports.
High-quality, low noise instrumentation for a wide variety of applications.
Backed by Russell's highly-rated RFT training and technical support.
Adept-Pro Software: Integrates examination planning, data acquisition, analysis, and report generation.
Voltage plane display and analysis for maximum flaw information.
Specialized Remote Field analysis channels including support plate suppression and uniform wall loss signal filter.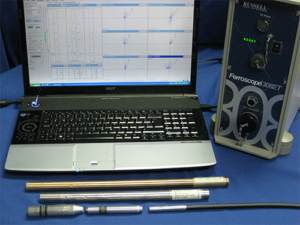 For further information please email: ndt@ndt.com.au