Description
The Bracelet Probe is a brand new tool from Russell NDE Systems and is now used by pipeline inspection companies and major upstream outfits in countries around the world. The Bracelet Probe uses an electromagnetic induction technique to provide comprehensive inspections for corrosion under insulation. It can penetrate insulation up to 75 millimeters thick and it gives highly accurate results for corrosion location and condition assessment.
Works for detection of:
Corrosion Under Insulation.
Near and far surface wall loss.
Localized and clustered pitting.
Piping and plate applications.
Interfaces to standard 16 channel Ferroscope RFT instrument.
Benefits:
Flexibility of one probe for many applications.
Condition assessment with or without insulation and/or fireproofing removal.
True-in-service NDE inspection technique.
Portable
Rapid scanning.
Up to one hundred percent coverage.
Encoded mapping of results.
Repeatable.
Test data is presented in strip charts and real time colour maps.
Applications:
CUF (Corrosion Under Fireproofing).
CUI (Corrosion under Insulation).
Pipe, vessels and tanks.
Wrapped pipe inspection.
Rubber and fibreglass lined tank floors.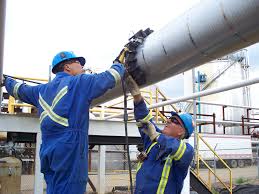 For more information please email: ndt@ndt.com.au