DC-4000 Ultrasonic Thickness Gauge

Description
The DC-4000 is Suitable for accurate measurements within a wide variety of materials including Fiberglass and Composites.
Features:
320 x 240 TFT colour screen.

Measuring Mode:  (P-E) pulse-echo and (E-E) thru paint.

A scan and B scan.

Auto probe zero calibration.

Auto probe identification.

Measuring  Range:  P-E 0.65-400 mm.  E-E 3.00-25.0 mm.

Options in Range: Gain, Delay, Gate Blank and E-Blank settings.

Standard 5.0 MHz transducer included with optional transducers available.

Display resolution:  0.01 mm/0.001″.

Memory of 10,000 readings in 100 files.

USB Output:  easily works with any Windows operating system 32 bit and 64 bit.

Multiple languages support.

Weight:  260 grams.

Size:  133 (L) x 75 (W) x 29 (H) mm.  5.2″ (L) x 3″ (W) x 1.1″ (H).

Two years warranty.
Certification:
Factory calibration traceable to ASTM E0797-05.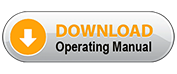 For further information please email: ndt@ndt.com.au