CTRL UL101 ULTRASOUND INSPECTION KIT
The CTRL UL101, manufactured by CTRL Systems, Inc., USA, detects and converts ultrasound produced by mechanical, pneumatic, hydraulic, and electrical systems.  Changes in the amplitude and characteristics of the ultrasound are easily detected in noisy plant environments.  Leaks are easily pinpointed.  Equipment problems are diagnosed even earlier than other technologies such as vibration, infrared inspection or oil analysis.
Description
UL101 Ultrasound Detector Applications:
Leak Detection:  Indicate and locate pressurized and non-pressurized system leaks  of any type of gas.
Motor Bearings & Gearboxes:  Diagnose critical mechanical equipment for production reliability and proper lubrication.
Electrical Inspection:  Detect arcing, tracking and corona discharge in low, medium or high voltage.
UL101 Ultrasound Detector Benefits:
Finds all turbulent flow leaks:  Most sensitive detector on the market today for compressed air/gas, vacuum, valve, etc. leak detection.
Easier to use:  Turn the receiver on, adjust sensitivity and begin testing.
Does not require calibration:  Begin testing immediately.  There is no need to calibrate or routinely send back to the factory.
Longer battery life:  A single 9-Volt battery powers the receiver for more than 45 continuous hours.
Complements vibration analysis or infrared:  Add the UL101 to your predictive maintenance routines for instant feedback.
Designed for a wide range of applications:  Leak detection, mechanical and rotating equipment tests, electrical arcing and corona discharge detection.
Standard or intrinsically safe models:  Intrinsically safe models can be used in explosive atmospheres.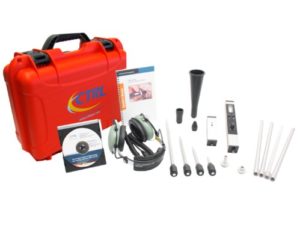 Intrinsically Safe: ANSI/UL 913-88, for DIVISION 1, CLASS 1, Groups A, B, C and D, CLASS II, Groups E, F, G and CLASS III.  It also complies with DIVISION 2, CLASS 1, Groups A, B, C and D, CLASS II, Groups F, G, and CLASS III.
For further information, please email: ndt@ndt.com.au