TB-10SP Special Magnetic Weight Lift/Defect Test Bar.

Description
The TB-10SP Test Bar is used to check the weight lift calibration of Magnetic Particle Inspection Yokes.
This model test bar contains artificial defects on the reverse side.
Test Weight Bar – Mass 4.5 kgs. +/- 0.5% is supplied with a plaque certifying weight and tolerance.
A Certificate of Conformance is supplied in accordance with the below:
1. ASME Section V, Article 7
2. ASTM E709-15
3. NAVSEA-TB-T9074-AS-GIB-010/271 Rev. (September 11, 2014)
4. ASTM E-1444/E1444M-16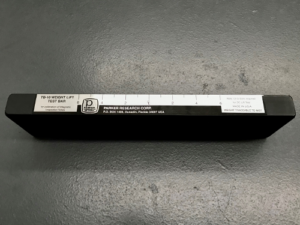 For further information please Contact us or email: ndt@ndt.com.au