Parker B-300S Hand Held Magnetic Yoke

Description
The B-300 Contour Probe is a lightweight Magnetic Inspection Yoke designed to perform magnetic particle inspections quickly and reliably. The probe has fully adjustable legs with a maximum leg spacing of 305mm, allowing the strong AC magnetic field to be applied directly to the precise area to be inspected. All 300 series Contour Probes come equipped with a 10' (3.048 m) power cord. Units are CE compliant and have a one year repair/replacement guarantee.
Specifications:
Dimensions:  7.25″ H x 9.25″ L x 2.25 " W.
Line Voltage Single Phase:  230 VAC. 50/60 Hz.
Line Current:  3 Amps.
Duty Cycle:  2 minutes on – 2 minutes off.
Weight:  3.4 kg.
Construction:  Polyurethane-filled glass/nylon housing, 3m power cord.
Y-300 Yoke Light:  The yoke light is available for the Contour Probe at an additional cost.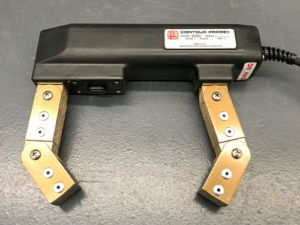 For further information please email: ndt@ndt.com.au