Mitech MT180 Multi-Mode Ultrasonic Thickness Gauge

Description
The Mitech MT180 is a through-coating multi-mode ultrasonic thickness gauge, capable of measuring the thickness of various material types with a high degree of accuracy. The multi-mode feature of the gauge allows the user to toggle between pulse-echo mode for normal thickness measurement, and echo-echo mode which will eliminate any paint or coating thickness from the reading.
Features:
Multi-mode: Pulse-Echo mode and Echo-Echo mode.
Capable of performing measurements on a wide range of material, including metals, plastic, ceramics, composites, epoxies, glass etc.
Various probes (transducers) are available for special application requirements.
One and two-point calibration function.
Single point mode and Scan mode. Seven measurements readings per second in single point mode, and sixteen per second in Scan Mode.
Coupling status indicator showing the coupling status.
Units: metric or imperial readout is selectable.
Battery capacity indicator.
Auto sleep and auto power off function to conserve battery life.
Optional software to process the memory data on the PC.
Configuration:
The standard configuration includes the instrument, P5EE 5 MHz probe, 2 AA alkaline batteries, couplant, manual and carry case.
Options include the standard 2 MHz, 5 MHz and 7 MHz probes, the 5 MHZ HT high temp probe, and the download software and cable.
Specifications: 
Range in pulse-echo mode: 0.65

~

600 mm in steel.
Range in echo-echo mode: 3

~

30 mm in steel.
Sound Velocity Range: 1000~9999 m/s.
Resolution

:

0.1 mm/0.01 mm.
Accuracy: ± 0.5% of the thickness reading + 0.01 mm depending on material type and conditions.
Memory storage of up to 20 files, with up to 99 values per file.
LCD display.
Two "AA" size, 1.5 Volt alkaline batteries allowing for up to 100 hours typical operating time.
Dimensions

:

150 mm×74 mm×32 mm.  Weight

:

245 grams.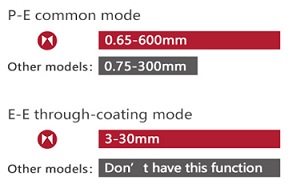 For further information please email: ndt@ndt.com.au