NDT Systems CB110 Automotive Precision Thickness Gauge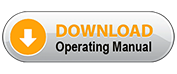 Description
The CB110 Sidewinder automotive inspection system is designed specifically for automotive industry. Applications include inspection and testing of cylinder bores, head ports, chassis and body members, roll cages and more.

Whether you are building a hard core racing machine or restoring a timeless classic, the CB110 will meet virtually all of your automotive inspection requirements. By pressing one single key you are presented with the unique ability to display a live, scrolling cross section view or plot of the inspection zone, allowing immediate identification of problem areas. Just slide the sensor up or down an area of interest, such as a cylinder bore and you will be presented with a Cross Section View of that scan line. The results are very revealing!
Along with the Scrolling Cross Section View, the CB110 can store individual thickness readings in a ready made log file for each cylinder for download or report printing at a later time. Log files are stored using up to 32 characters, allowing easy identification of the block or customer.
The standard package includes the CB110 gauge, standard TG-505R transducer, manual, training CD, couplant gel and carry case.
Options:
Optional transducers are available for specific or complex inspection requirements such as cylinder head ports. NDT systems can also design and manufacture sensors for any unique requirements
The "Hammer" package option is recommended for cylinder bore inspection work, utilising the unique Hammer "Swivel/Gimbal" transducer head assembly. The package includes a pressurized couplant system for smooth and even section scans, making cylinder bore inspections effortless.
The optional Data Transfer package allows the download of logged data, as well as the  preparation of professional, detailed cylinder bore reports for customer presentations.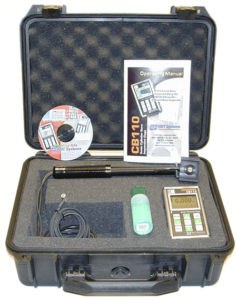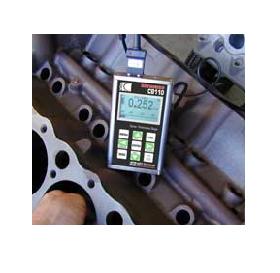 For more information please email: ndt@ndt.com.au