Air Force General Purpose Eddy Current Standard
The Air Force Standard is a three (3) plate assembly measuring 4″ x 7″ x 1.06″.
Description
The Standard contains twenty (20) fastener holes with diameters from 0.156 to 0.750″, two (2) screw holes, and two (2) dowel pins holes.  The Standard also contains a total of 66 EDM notches in various locations.  Notch depth and length vary.  Width is 0.004″ for all notches.  Material is Aluminium Alloy 7075-T6, QQ-A-250/12.  Finished standard is anodized per MIL-A-8625, Type II, Class 1.  The Standard can also be made in titanium, steel, stainless steel or other alloy.  The Standard is manufactured in accordance with U.S.A.F. Tech Order 33B-1-1, Figures 4-47 through 4-49.  NSN 6635-01-092-5129,  P/N 7947479-10.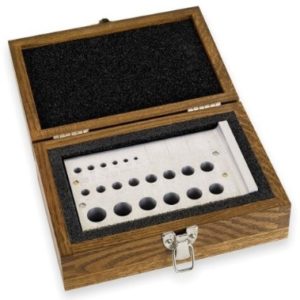 For further information, please email: ndt@ndt.com.au