5 Step Metric Block 90 Degrees
For thickness and linearity calibration of curved surfaces.  This 90° Curved Metric Step Block is machined from solid 50.8 mm diameter bar.
Description
The block has step thicknesses of 2.5, 5.0, 7.5, 10.0 and 12.5 mm.  ID radius is a constant 12.7 mm/25.4 mm diameter. In accordance with PH Tool Drawing No. 10177.
Block Curvature:
12.5 mm step is a 25.2 mm radius.
10.0 mm step is a 22.7 mm radius.
7.5 mm step is a 20.2 mm radius.
5.0 mm step is a 17.7 mm radius.
2.5 mm step is a 15.2 mm radius.
Step face is 25 mm x 90° arc.
1018 Steel, Nickel plated.
Blocks are available in A1018 Carbon Steel and 304 Stainless Steel.
Fitted wooden storage case is optional.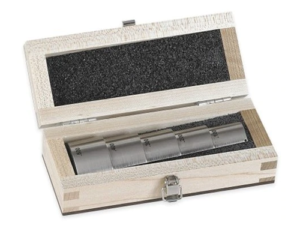 For further information please email: ndt@ndt.com.au